Charter a boat with WaterWorks and enjoy a day of water sports, relaxation, and adventure on Lake LBJ.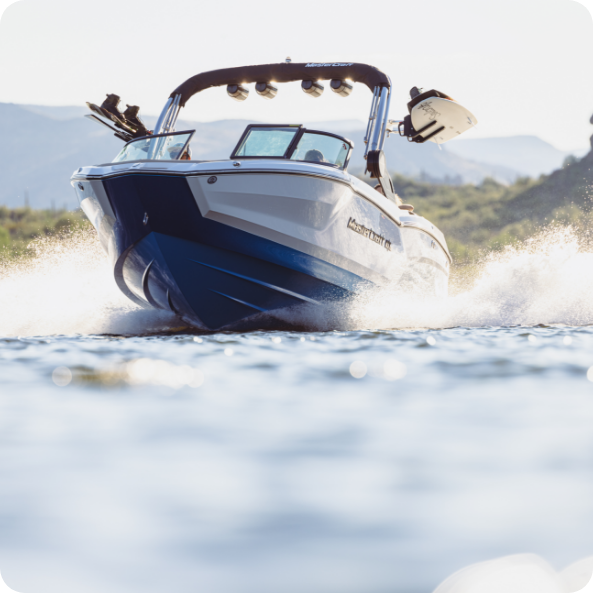 full service boat & instructor rentals
Charter a Boat with WaterWorks and get a full day of fun and adventure on Lake LBJ! Everyone will surely enjoy multiple types of water sports, including wakeboarding, wake surfing, tubes, knee boards, and other water sport toys! This experience includes the rental of a boat, a driver and instructor, and up to 8 guests.
Our boat charters are the perfect way to experience the thrill of water sports in a safe and controlled environment. Our well-maintained boats and experienced crew members ensure that you and your guests have a safe and enjoyable experience on the water.
Booking your boat charter experience with us is easy and convenient. Our reservation process is simple, allowing you to secure your spot on one of our boats quickly. Our boats fill up quickly, so booking early is best to ensure you get all the fun.
Our boat charters are available for a variety of occasions, including family outings, corporate events, fishing trips, and more. We have a wide range of boats available, from small and intimate vessels to large and spacious boats that accommodate large groups.
When you charter a boat with us, you'll have the freedom to explore the beauty of Lake LBJ at your own pace. Our experienced crew members are always available to provide assistance and guidance, ensuring you have a safe and enjoyable experience on the water.
Thank you for considering our boat charters for your next adventure on the water. We look forward to providing you with a safe, fun, and unforgettable experience you and your friends and family will cherish for years.
2-hour to 4-hour options available.
Everyone must fill out and sign a completed waiver before boarding the boat.
Stay seated, and do not move around while the boat is in motion.
Ask a coach first if you want to jump in the water to cool down while the boat is not moving.
While the boat is underway, keep your head, hands, etc., in the boat!
What type of boat will I be on?
How many people can go on?
What's your cancellation policy?
24 hour in advance, Full refund will be included.
Do your boats have a captain?
Each charter includes 1 captain and 1 coach

Whether it's more comfort, more features, more wave options, or just more performance and reliability than ever before, MasterCraft is constantly pushing the boundaries to deliver moments that make life extraordinary.